The concept of sharing, turned into a business
The social startup uncutbread is all about selected non-profit organizations that make the world a better place every day.
When I explain to my daughter why it is important to share things with others, I sometimes feel like a hypocrite. The concept, which is a matter of course in our upbringing of children, had somehow unnoticed and unconsciously evaporated in our everyday adult life. At least in mine. Yet, sharing doesn't hurt at all. Says my daughter.
But looking at others is too easy and too comfortable. Let others do it. Whether it's solving relevant issues in our neighbourhood or on the other side of the world. Be it in the fight for equal rights, better interaction with one another, access to basic medical care, food and clean drinking water, or the protection of endangered animal species and climate and nature conservation. Then, at Christmas, shortly before the presents are presented, we suddenly unveil our generous self, when we want to buy ourselves a clear conscience by donating to this and that. After all, others are not as well off as we are.
Since my daughter was born, I see the world with different eyes. I realized that, 20 years from now, I would have to look her in the eye and probably justify myself and our decisions. For a good reason. So I have decided to stop letting others pull the cart out of the mire in the future. In my little swamp I will pull my own cart out of the mud myself. At least I'm trying. Every single day. Besides conscious everyday decisions, I wanted to create something that would enable me to make a greater contribution than my own means would allow. So the idea of uncutbread was born.
Idea: Earning money to give money away
Mission: To help others save the world
Means to an end: Smart designs on high-quality products
So, since autumn 2019, our small social startup uncutbread has been live with an online shop and a first small collection of high-quality, mostly vegan sweatshirts and t-shirts. And, with, as I find, smart designs and the clear mission to help others to make the world a little bit better every day. That's why I am incredibly proud that we have been able to win renowned non-profit organisations such as Viva con Agua Sankt Pauli, the reNature Foundation, the Turtle Foundation, and Madamfo Ghana for our project from the very beginning. The support of further organisations is already in progress.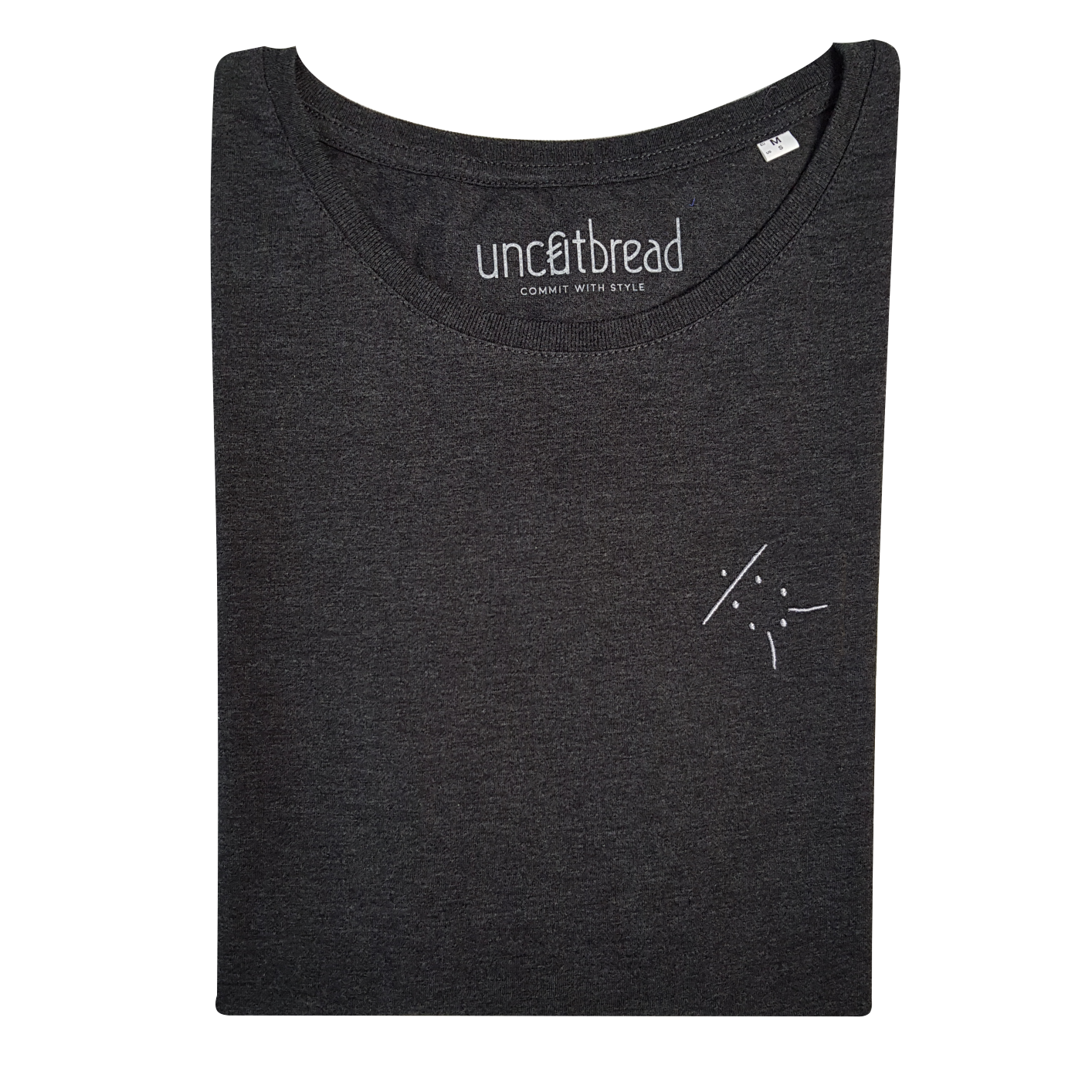 Each supported project gets its own design, which is used to refine selected products. All current designs are an interpretation of the SOS Morse code and consist of six dots and three dashes, as many areas of our coexistence and environment are in a state of emergency — including renaturation (reNature Foundation), access to clean drinking water (Viva con Agua) or species protection (Turtle Foundation).
For me, the biggest hurdle was to develop a sustainable and profitable business concept that does not serve an end in itself, but focuses on those people and organizations that make a difference in the world every day. Therefore, uncutbread is not really about the products themselves, even though they pursue the highest possible standards of quality, responsible production and smart designs. It's more about finding the right products that make our target group happy and thereby support our organisations in the best possible way. We are starting with organic shirts, but which products will follow in the future is completely open.
We are still taking small steps, especially because we have decided against advertising budgets. Our intention is to use our budget as efficiently as possible and to let our profit do good as effectively as possible. So, we would rather divide the money directly between our organisations and donate it than invest in paid media. In this respect, we are happy about every support, so, in the long run, we can indeed make a small difference in the world.
Please let me know, if you have any questions or feedback that makes us better. We need every support we can get! And, if there is a non-profit organisation that we can support in a trustful and cooperative way, we would be happy to receive your recommendation!